Shirley Temple Sheet Music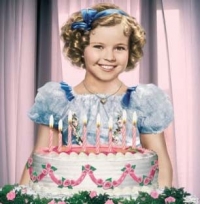 Shirley Temple (born April 23, 1928) is an American actress and public servant. The daughter of George and Gertrude Temple, she began her screen career in 1932 at the age of three with comedy shorts and bit parts in feature films. Following her breakthrough film Stand Up and Cheer! in 1934, she skyrocketed to superstardom the same year with the Christmas release of Bright Eyes, a feature film designed specifically for her talents. Star status was confirmed with an Academy Award in February 1935, and blockbusting super hits such as Curly Top and Heidi followed year after year during the mid to late 1930s. Licensed merchandise that included dolls, dishes, and clothing capitalized on her image.She is the youngest person ever to be awarded an Oscar (age 6), she was awarded the inaugural (now retired) non-competitive Academy Juvenile Award in 1934. Temple's popularity waned in her teens and she left Twentieth Century-Fox at the age of twelve to attend high school. She appeared in a few films of varying quality in her mid to late teens, and retired completely from the silver screen in 1950 at the age of twenty-one. She starred in twenty-four films for Twentieth Century-Fox, and was the top box-office draw four years in a row (1935–1938) in a Motion Picture Herald poll.
Temple's parents were powerful forces in their daughter's rise to stardom and success. Gertrude Temple enrolled her daughter in dance school, doggedly made the rounds of casting offices, read scripts to her daughter, crafted her emotional, physical, and vocal expressions, monitored her daughter's performance from a chair placed beside the camera, conducted her own interviews, and received a paid position at Twentieth Century-Fox as Temple's coach and hairdresser. Temple's father was a bank employee who managed his daughter's wealth through astute investments. In 1945, against her parents' better judgment, seventeen-year-old Temple married Army Air Force sergeant John Agar, who, after being discharged from the service, entered the acting profession. The couple made two films together before Temple divorced him on the grounds of mental cruelty in 1949, receiving custody of their daughter Linda Susan and the restoration of her maiden name in the process. In January 1950, Temple met the conservative scion of a patrician California family and United States Navy Silver Star recipient Charles Alden Black. She married him in December 1950 following the finalization of her divorce and retired from films the same day to become a homemaker. Charles Alden Black, Jr. was born in 1952 and Lori Alden Black in 1954. In 1972, Shirley Temple Black was one of the first prominent women to speak openly about breast cancer after undergoing a modified radical mastectomy.
In 1958, Temple returned to show biz with Shirley Temple's Storybook, a live-action television anthology series featuring fairy tale adaptations. Temple played hostess and narrated or acted in episodes. Stars Charlton Heston, Claire Bloom, Elsa Lanchester, Rod McKuen, Joel Grey and others appeared on the show. The series chalked up a single season, left the air for a season, and returned for its final season in color in 1960 as The Shirley Temple Show. The reprise included adaptations of material other than fairy tales such as Ludwig Bemelmans's Madeline, and Nathaniel Hawthorne's The House of the Seven Gables. Temple made guest appearances on various television shows in the early 1960s and filmed a sitcom pilot that was never released. Temple sat on the boards of many corporations and organizations including The Walt Disney Company, Del Monte Foods, and the National Wildlife Federation. In the mid 1960s, she entered public life, ran unsuccessfully for United States Congress in 1967, and received appointments as United States Ambassador to Ghana in 1974 and to Czechoslovakia in 1989. In 1988, she published her autobiography, Child Star. Temple has received many awards and honors over her lifetime including Kennedy Center Honors and a Screen Actors Guild Life Achievement Award.
Shirley Temple - Good Ship Lollypop Piano Sheet Music
Advertisement
Advertisement

Please right click on the download button and select "Save Target As" or "Save Link As" to download



You can share this sheet on your Twitter or Facebook account to let your friends know too!


(205.93KB)